SPONSORED ARTICLE: Super-resolution Microscopy (SRM) & Particle Tracking on a Budget
SPONSORED ARTICLE: Super-resolution Microscopy (SRM) & Particle Tracking on a Budget
Visit Laser 2000 at MMC stand 445 on the 1st to the 4th July to talk about our unique service of upgrading old microscopes, and transforming them into industry leading imaging systems.
The information below will be of interest if you are working in:
Super-resolution microscopy (SRM)
Single molecule localisation microscopy (SMLM)
3D particle tracking
2P microscopy and GCaMP laser
Modular microscopy
Super-resolution Confocal Microscopy
With solutions such as the Rescan Confocal (RCM) 4-laser line-scanning unit, we can upgrade any microscope to a confocal system at an affordable price. Compared to standard systems, we can provide 1.4x resolution and 3x signal-to-noise improvement, and with deconvolution this provides an incredible 120 nm lateral resolution.
High SNR and low laser power make the system suitable for live cell imaging, as well as ratio-imaging/multi-colour applications such as FRET, FRAP, pH and Ca2+.
We also supply the complete system with a Nikon Ti2 frame. If interested come to stand 445 for a live demonstration.


Problem
While super-resolution microscopy is desirable, a new microscope may be prohibitively expensive. Old microscopes may be left unused whilst newer confocal microscopes are over-subscribed.
Solution
The RCM brings new functionality to your old microscope, enabling super-resolution microscopy and increasing your bandwidth.
---
Single Molecule Localisation Microscopy (SMLM) and Particle Tracking
The SPINDLE is an add-on module to any widefield microscope, allowing easy capture and analysis of 3D images of cellular structures, as small as 10-20 nm.
By using interchangeable phase masks that can engineer the point spread function (PSF), you can select a mask to optimise the factors that meet your imaging requirements. By imaging larger volumes, you get more high-quality data, and faster, minimising set-up costs.
Problem
Most super-resolution systems don't allow for extended depth 3D imaging, requiring purchase of expensive dedicated microscopy systems.
Solution
The SPINDLE enables unprecedented precision-depth imaging. Its modular design ensures advanced capability at an affordable price.
---
Modular Microscopy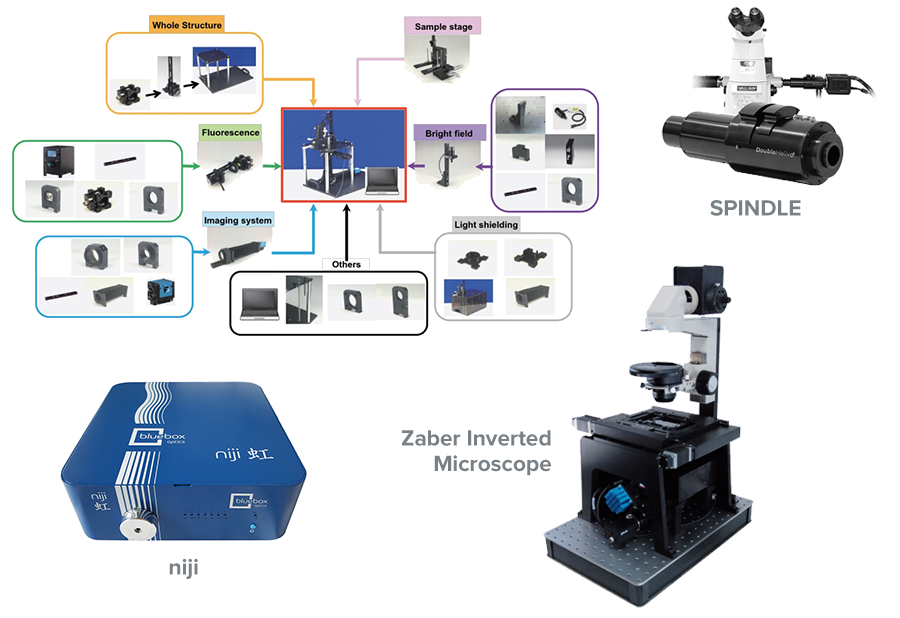 Laser 2000 has a range of core modules that assemble to provide different imaging functionalities, offering flexible microscope solutions at low cost.
Bluebox Optics' niji is our new seven-colour LED light source for Fluorescence Microscopy, offering great value. Its modular design means the mainframe can be bought with as many or as few colours as you wish, and simply upgraded locally as required. With high levels of integration into most software packages, come and see how you can effortlessly fit the niji into your setup.
"Good design and build quality. Integrates into microscope software very easily." Dr Peter March - Senior Experimental Officer - The University of Manchester
Zaber's modular motorized microscopes combine the performance and value of Zaber positioning devices with the world class imaging quality of Carl Zeiss optics, and run on Micro-manager open source software, saving you money, and offering great flexibility in automating your imaging procedures.
---
Ultra-compact Femtosecond Lasers for BioPhotonics
Offering fixed wavelength at 920 nm and/or 1064 nm, the ALCOR Series produces high average power (~2 W) with ultrashort femtosecond pulses (down to 100 fs) at high repetition rate (80 MHz standard, others optional).
Laser 2000 can provide custom two-photon microscope solutions tailored to your needs. Working with a leading consultant and utilising products from our suppliers, we can provide a cost-effective flexible system tailored to solve your exact requirements.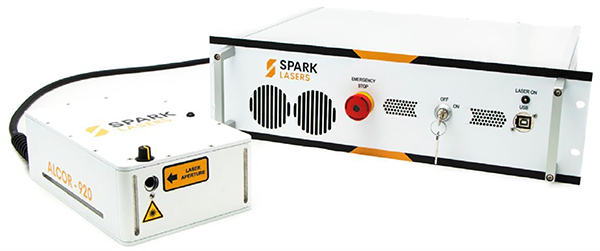 Applications
Multi-photon imaging and excitation
Neuroscience
Optogenetics
Coherent anti-Stokes Raman spectroscopy
Fluorescent lifetime imaging
Problem
Traditional Ti:Sapphire lasers can be large and complex, with a wider wavelength range than is actually required.
Solution
ALCOR Series lasers focus on the wavelengths that matter, in an ultra-compact, robust format.
---
You may also be interested in...
Optical filters, filter cubes, and motorised filter wheels
Light sources and lasers for microscopy and Raman
Deconvolution, visualisation, and analysis software
Sign up to the Laser 2000 newsletter and receive 20% off your next Semrock filter purchase.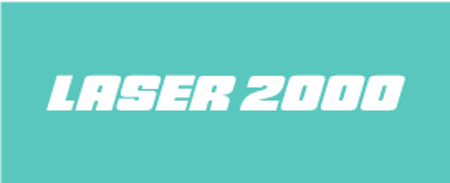 If you're unable to attend MMC, but would like to know more about the exciting new products below, or if you have any questions, visit our website