SPONSORED ARTICLE: Hitachi SU7000 advanced FE-SEM to make European debut at mmc2019
SPONSORED ARTICLE: Hitachi SU7000 advanced FE-SEM to make European debut at mmc2019
The new Hitachi SU7000 represents a step-change in the practical performance of FE-SEM and you can see it in action for the first time in Europe at mmc2019.
Large or small samples, conducting or insulating, the SU7000 handles it all with sub-nm resolution.
Magnetic samples can be analysed with ease thanks to new field-free optics. More techniques can be combined on one powerful platform than ever before with the highly flexible chamber design. The limits of analytical performance are pushed further with short working distance EDX – providing high resolution imaging and analysis simultaneously. 6-signal simultaneous imaging gives deep sample insights, quicky and efficiently. This is all achieved with complete control, whatever the experiment, thanks to new electronics and software. You can see all of this in action, together with EBSD and dual EDX, at mmc2019. Contact us on eminfo-uk@hht-eu.com to book your time on the most flexible FE-SEM available.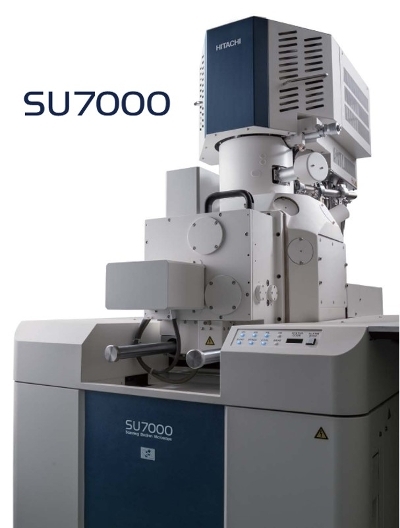 We'll also be exhibiting the ever popular TM4000 benchtop SEM, which now features more advanced capabilities such as automated fibre and particle metrology, 3D surface modelling, camera navigation and optical image correlation. Its big brother in our benchtop lineup, the FlexSEM, is also available to see in action – offering the performance of a full size SEM in an easy-to-use compact benchtop format. Our growing SPM capabilities are represented with the AFM51000 benchtop AFM, whilst advanced sample preperation solutions including ion milling and UV cleaning will also be available for demonstration.
At Hitachi we also want to make it easy for you to learn about new techniques. That's why our popular on-booth workshop programme will be returning at mmc2019. We'll be covering topics such as ultra-low damage TEM lamella prep, automated nanoparticle measurement, 3D surface modelling, vacuum AFM and automated fibre analysis.
To see the advanced capabilities of the SU7000 in action, to book hands-on time on one of the other instruments or to learn about the on-booth workshop programme contact us now on eminfo-uk@hht-eu.com